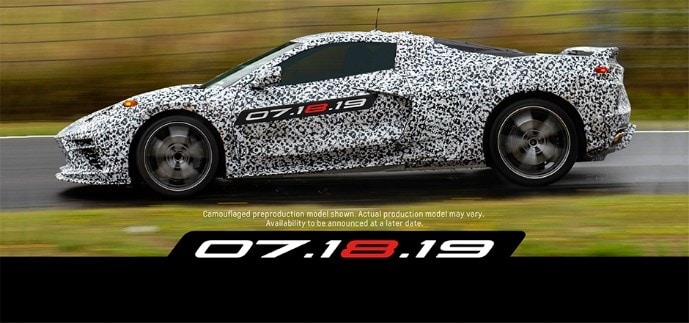 The speculation is over. Tonight in New York City, General Motors Chairman and CEO Mary Barra confirmed the official reveal date for the Next Generation Corvette. She arrived at Times Square in a camouflaged prototype for the Stephen Siller Tunnel to Towers' Footsteps to the Future Gala, where she was honored. The prototype was emblazoned with "7.18.19", the official reveal date for the most anticipated Corvette ever.
There, she also announced that the final seventh-gen Corvette — a black, 2019 Z06 model — will be auctioned on June 28, at the Barrett-Jackson Northeast sale in Connecticut. Every dollar of the winning bid will go to the Stephen Siller Tunnel to Towers Foundation, named for New York City firefighter Stephen Siller, who died during the attacks of September 11. Registration information is available at www.barrett-jackson.com.
This exhilarating news naturally raises a slew of questions for you and your valued customers. From a Dealer perspective beyond today's announcement, we will start sharing formal details at the end of April, through the July reveal and beyond.
From a consumer perspective, encourage your customers to sign up and receive updates straight from the source, https://www.chevrolet.com/upcoming-vehicles/next-generation-corvette, so they can be the first to know about the Next Gen Corvette.
This Corvette is the sum of each generation before it, but will stand alone as the new standard of performance. Come along for what promises to be a once in a lifetime ride.
For more information from tonight's event, see the press release.